Give yourself more choice with an Abbotsley Country Home.
For holidays, for weekends, for investment.
Abbotsley Country Homes is an exclusive new gated and landscaped development restricted to twenty properties. Set in delightful Cambridgeshire countryside an hour from North London and just 20 miles from Cambridge, Abbotsley combines easy access and short travelling times with a peaceful rural atmosphere.
It's the ideal location for a second home, whether it's for your own enjoyment or as an investment. And a convenient and comfortable UK base if you're an ex-pat, because Abbotsley is only an hour from Stansted and Luton airports.

Spacious living with glorious views
Your luxurious new home at Abbotsley will have the generous living space you need for weekends or longer stays (please note that permanent residence is not permitted).The 35m2 (376 sq ft) living area features magnificent laminated beams and a lofty cathedral roof that gives a wonderful sense of spaciousness, and offers delightful views across the landscaped site and into the open countryside beyond.
Luxury from only £197,000.
Spring is coming, the landscaping is looking great – and the Second Phase has just been released for sale from only £197,000 (incl. balance of 125-year lease).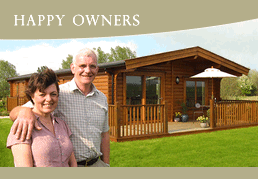 "We're delighted with our country home at Abbotsley"
Peter McArdle, a building consultant, and his wife Bernie decided on a second home at Abbotsley after analysing the financial benefits of the investment.
"We'll be able to let the property when we aren't using it, bringing in extra income," says Peter. "We have a spacious, solid log home, close to London yet with peaceful country views," says Bernie. "And no worries about cutting grass, gardening or refurbishment, because they're all included in the package!"